The Machete return to the Fawcett Inn with a raccoon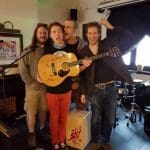 We'd been waiting for this night to come.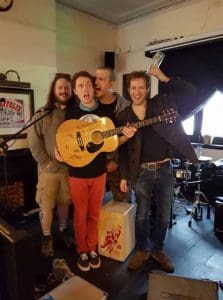 Though we'd barely scraped together a rehearsal since March due to a dizzying multitude of factors, we somehow still knew it was going to be a special one. Last time we visited the Fawcett Inn we left feeling like gods, and it was time for the Tequila Train to pull back into this station once again… Only this time, it was bringing with it a crazy assortment of prizes for our very first Machete Raffle Set.
We were so keen to make this an unforgettable night for our friends and fans that we spent a large chunk of our winnings on prizes for the free raffle. I donated a cheap guitar that I had lying around which we signed and turned into a prize which will one day be worth… billions? At least a tenner? I also chucked in a cuddly toy raccoon (later identified as a lemur) which seemed to generate a lot more interest than the guitar. We hadn't ruined the little fella by signing him, I guess. Other prizes included a portable barbecue set, a batman gadget pen (which I secretly wanted, but alas, I was exempt), a waterproof shower speaker and the grand prize of a £50 Ticketmaster voucher.
It was an especially big night for me as I was greedily in both bands set to play. On top of my drumming duties for The Machete, I also play guitar and sing in folk rock band Waif & Stray. I had a new Boss amp to test out and many people I knew had showed up to watch us. I don't usually get the jitters before a gig, but tonight I was as nervous as a bee-keeper who has turned up to work without his special suit.
Luckily, it went pretty well and we managed to warm up the crowd nicely before the main event, entertaining them with our three-part harmony renditions of favourites such as Teenage Dirtbag and Girls Just Want To Have Fun as well as a number of our own songs. That usual thing happened where as soon as I'm on a stage I forget how to play guitar and I can only say ridiculous things down the microphone, but our kind audience still seemed to love it.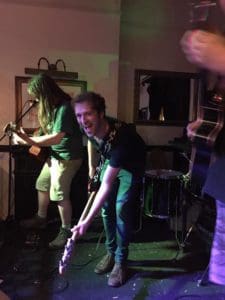 When the clock struck about 9.38pm it was time to begin the highly anticipated Machete Raffle. To make it extra insane, we decided that we would attach each raffle prize to the name of a song, meaning that the raffle winners would dictate the order of our set, one song at a time. It had so much potential to go wrong, but in an eccentric way, it kind of worked. And saved us the job of writing set list. The only problem was, with so many tickets given out (such was our abundance of generosity that night) we found that a lot of the winning tickets went unclaimed and we had to redraw. After three consecutive redraws, you can consider the flow of your set somewhat broken.
While Hallett tried to dig prize winners out of the frenzied crowd between songs, Dom, John and I improvised funktastic little interludes to keep things ticking over. One of these got out of hand when we started playing the theme to the Fresh Prince of Bel Air and before I knew it MY OWN SISTER was up on the stage, rapping into the mic and wildly gesticulating like the total diva that she is.
How about the set itself? When we weren't scrounging around for people to give free stuff to, or getting everyone pumped up by the Tequila Train which I had the pleasure of starting, we were creating such severe funk that pretty much everyone in the pub – and it was packed – was moving at least part of their body. Some people were moving their entire bodies. Most notably our superfan Dillon, my sister (of course) and my girlfriend Becky (who threw a whole pint of beer in the air whilst dancing and sadly didn't catch it, but the broken glass was quickly brushed under the stage and the dancing continued). That's one of the things I love about this band. Wherever we play (with the exception of last year's bizarre gig at Aldershot Football Stadium), we will always make somebody dance. It's involuntary. Sometimes I even dance whilst drumming.
Suffice to say, the night didn't disappoint. Everyone had a great time. Our lack of practice only showed in one song, The Machete, in which our brief but total breakdown of, well, everything was documented in a video which we later watched, laughed at and destroyed. The audience didn't seem to notice though. And if they did, they were too incapacitated by all the tequila we'd given them to care.